Metformin, the most prescribed drug for T2D, is not available to >6 million T2D patients in the US because they have kidney disease
NovaTarg is developing a novel biguanide (NT1195) for the treatment of T2D in patients with impaired renal function
NT1195 is a Drug Candidate for T2D Patients with Kidney Disease
>29 million Americans have Type 2 Diabetes, but 20-25% of T2D patients cannot benefit from metformin because they have impaired renal function.
Treatment options for T2D patients with chronic kidney disease (CKD) are limited. Oral anti-diabetic drugs (OADs) have very restricted use because of safety issues and metformin is contraindicated in such patients.
NT1195 from NovaTarg is the first drug designed for T2D patients with CKD.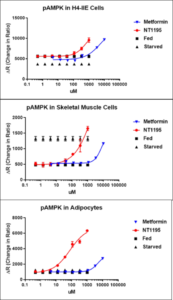 NT1195 is a novel biguanide designed to improve upon the properties of metformin, particularly for T2D patients with impaired renal function (where metformin has a blackbox warning). NT1195 activates AMPK in metabolic target tissues (see panel opposite) and is 10 – 60x more potent than metformin, especially in cells that have high OCT3 expression (human skeletal muscle and adipocytes).
Detailed PK studies in mice show that NT1195 has a 28.5h half-life (metformin = 1.97h), high levels of exposure (6x >metformin) and renal clearance that is 50x less than metformin. This latter observation is central to the predicted safety of NT1195 in patients with impaired renal function, since we anticipate that levels of NT1195 will not be raised in patients with kidney disease.