PKD affects ~600,000 Americans, for whom the only treatment, Tolvaptan, is poorly tolerated
NovaTarg has discovered a series of disease-modifying drugs that treat the underlying causes of PKD

Kidney epithelial cell proliferation
Fluid secretion that drives cyst development
Disease-Modifying AMPK Activators for PKD
Polycystic kidney disease (PKD) is a family of hereditary disorders involving the appearance of fluid-filled cysts in the kidneys, leading to kidney failure and end-stage renal disease (ESRD).
PKD affects over 12 million people worldwide. Most suffer from the autosomal dominant type (ADPKD), which is the fourth leading cause of kidney failure (~10% of all ESRD). In ADPKD, the kidneys become grossly enlarged to 4–8 times normal size, the cysts are benign but progress to chronic renal failure by age ∼60 and require dialysis or kidney transplant.
Renal cyst development and expansion in PKD involves both fluid secretion and abnormal proliferation of cyst-lining epithelial cells. Both processes are regulated by AMPK, so biguanides that are transported by organic cation transporter 2 (OCT2) and activate AMPK, have the potential to be disease-modifying drugs to treat PKD.
NovaTarg lead compounds, particularly NT1021, activate AMPK in human ADPKD cells, inhibit cell growth and block fluid secretion. Importantly, NT1021 also inhibits cyst formation ex vivo in PKD mouse embryonic kidneys (A).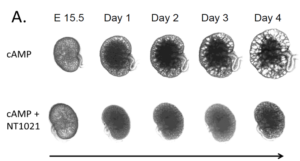 No safe and effective drugs are available for treatment of PKD in the US, yet the need for a therapy that would prevent cyst formation and progression to renal failure is urgent.
NovaTarg is at late-stage lead optimization with the expectation that a drug candidate will be identified by 4Q19.
This will be the first drug designed for PKD and the first drug that will address the two key processes underlying PKD development.